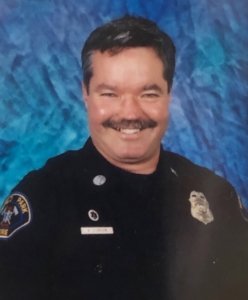 BRIAN DICKSON 2019
San Mateo County Firefighters are saddened to announce the passing of Retired Assistant Chief Brian Dickson from job related cancer that he fought since 2001.
Brian started his fire service career with Cal Fire in 1977, was later hired with Menlo Park Fire District in 1979 where he worked until accepting a position with Ebbetts Pass Fire District as Assistant Fire Chief in 2005.
One of Brian's greatest professional accomplishments and lasting legacies was bringing para-medicine to Menlo Park FD and helping to launch the countywide paramedic engine company program.  Brian's passions included his family, the San Jose Sharks hockey and playing soccer every year at the Firefighters Olympics.
Brian is survived by his wife Anne and his sons Gordon and Sean.
Brian was a good boss who led from the front, a mentor and an unconditional friend you could count on.  He embodied integrity, passion, humor and kindness which allowed him to create enduring friendships throughout his whole life wherever he went.
In lieu of flowers, the family respectfully requests consideration of contributions be made in memory of Brian Dickson to Utica College, and be designated to support Men's Hockey. Contributions can be sent via U.S. Mail to Utica College , Office of Advancement, 1600 Burrstone Road, Utica, NY 13502 or via a credit card online at www.utica.edu/donate.