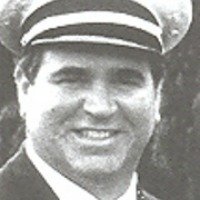 MICHAEL OLSSON
Mike Olsson, was a devoted husband and loving father. A father and person that could take the weight of the world off your shoulders by putting his arms around them. Mike Olsson was a devoted son and dedicated firefighter. Mike's character brought much to the lives of the people around him. He enriched the people in his life and the fire service, to which he dedicated himself.
Mike's passing will place huge void in all of the lives he touched. Mike preformed all the different roles in his life with dedications, a huge heart and with an incredible amount of courage. His courage made him so successful in accomplishing his goals and delivering his love of everything for which he cared.
The poem, "Courage," by John Carzello describes Mike. Courage is the strength to stand up when it's easier to fall down. It is the conviction to explore new horizons when its easier to believe what we've been told. Courage is the desire to maintain our integrity when it's easier to look the other way. It is feeling happy and alive when it's easier to feel sorry for ourselves. Courage is the will to shape our world when it's easier to let someone else do it for us. It is recognition that none of us are perfect, when it's easier to criticize other. Courage is the power to step forward and lead when it's easier to follow the crowd. It is the spirit that places you on top of the mountain when it's easier to never leave the ground. Courage is the freedom of our mind, body, and soul. Mike had this courage. Mike gave to everyone the example of courage..
"The Firefighter's Prayer" last paragraph reads…and if according to God's will, I have to lose my life bless with your protecting hand my children and my wife. Mike, the way you lived your life and what you gave to those who you loved, the Lord blessed you with caring hands to protect and care for those you loved, the Lord blessed you with caring hands to protect and care for those left behind. Your family, your friends and your colleagues will miss you, but you should leave us knowing that our love for you will provide what you can no longer physically give. Mike is survived by his wife, Melody and two daughters, Lauren, and Chanel; Mother, Gloria Mayer of Reno, Nevada; Father, Conrad Olsson of Manteca, California; siblings John of Chico,Ca., Stephen and Kerri of Nevada and Pam Ruiz of Manteca, Ca. Mike was 45 years old. He served the San Mateo Fire Department for 21 years with the promotion to Captain in 1987. In addition, Mike served as the Department's Local 2400 representative along with serving on numerous committees and task forces during his career.