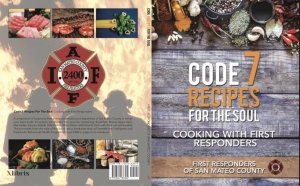 Thanks to the submissions of everyone's favorite recipes and the leadership and direction of our very own Transport Medic, Ruby Siero-Tanti, we now have our very own cook book.  The advertising for the book is as follows:
"Code 7 Recipes For The Soul, Cooking with First Responders A compilation of recipes by firefighters, paramedics and dispatchers of San Mateo County to tempt your taste buds. Its recipes are divided into sections containing: Breakfast, Bread, Appetizers, Marinades, Sauces, Salads, Side Dishes, Main Dishes and Deserts. Each with their own personality. The proceeds from the sale of this book are a fundraiser that will benefit the Firefighter and Paramedic Behavioral Health Program of Local 2400 to support its members."
The cookbook was envisioned as a fundraiser by our Peer Support Team for our non-profit the 'San Mateo County Firefighters Foundation.'  The funds raised from the Cook Book are meant to fund our Behavioral Health Program in the future.  With that said, there are 3 ways to purchase the book for: 32.99 for the Soft Cover; or, $40.99 for the Hard Cover.  These was are:
On Amazon. When Purchased on Amazon the Foundation will receive a 10% royalty for the sale.
On Xlibris. Xlibris is our publisher and when a purchase is made from their site the Foundation will receive a 255 royalty for the sale.
From iaff2400.org. We will eligible for a writer's discount as we wrote the book.  If we take and fulfill orders the foundation can receive the books at as much as 50% off of the value and we can still receive royalties.  We will be accepting orders until December 1st.  To Order from the Union Directly (rising as many funds for the Foundation as possible) please use the links below.

$32.99 Soft Cover
$40.99 for the Hard Cover
| | |
| --- | --- |
| Paperback | |
| Quantity | Discount |
| 1-24 | 20% off retail |
| 25-49 | 25% |
| 50-99 | 30% |
| 100-249 | 35% |
| 250-499 | 50% |
| 500-999 | 55% |
| 1,000+ | Request Quote |
| | |
| --- | --- |
| | |
| Hardcover | |
| Quantity | Discount |
| 1-24 | 20% |
| 25-49 | 25% |
| 50-99 | 30% |
| 100-249 | 40% |
| 250-499 | 45% |
| 500-999 | 50% |
| 1,000+ | Call for Quote |